A bed near the big city sights for £59? Our writer's prayers were answered on an Italian convent stay in Venice and Rome

All over Italy, religious houses are opening their doors to visitors. Their offer is unique: the chance to sample a gentler pace of life, often staying in glorious, ancient buildings with a kindly bunch of monks and nuns…
You don't have to be Catholic to stay — although you might feel an added resonance if you are. Visitors can simply use these lodgings as a brilliantly atmospheric, often super-central base to see a city from a different angle. They're astonishingly good value, too…

View the article here at The Times, UK
View the article here at monasterystays.com
Looking for a unique place to stay in Venice, Rome or througout Italy?
A stay in a monastery or convent guest house offers a true traveling experience – a unique point of difference to the mainstream hotels that all start to seem the same.
Monastery or convent guest houses are found in some of the most sought-after locations, from Venice to Rome, nestled in the hills and along the coast. Guest houses with soul, offering a warm welcome and a true travel memory.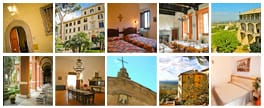 Why book with Monastery Stays
Well established and recommended across the travel media and guides to Italy, Monastery Stays is an innovative small organisation, established to provide a superior service for people wanting an authentic experience in Italy of staying in authentic, unique and value for money convent and monastery accommodation, showing warm hospitality to all travellers
…more