Experience a true slice of Italian life with accommodation in authentic Italian monastery & convent guest houses
Spring is in the air… sunny summer days are not far away… landscapes of terracotta rooftops, captivating countryside and Mediterranean vistas await!
Discover Italy and experience a true slice of Italian life with Monastery Stays.
Bed and breakfast accommodation in well presented and ideally located monastery and convent guest houses throughout Italy.
So much more than a standard hotel, Monastery Stays opens the door to a true cultural experience that provides a lasting memory for your Italian travels.
Rome, Florence, Venice are must see destinations, whether it is your first trip or your tenth and take a few extra nights to explore a hilltop town in Tuscany & Umbria and then soak up the scenery of the famous Cinque Terre or Amalfi coasts!
With well priced, safe & secure lodgings throughout the country, you can tour Italy with Monastery Stays.
Immerse yourself in thousands of years of history and amazing art, wonderful food and culture, it really is the country of 'la dolce vita'… you'll want to throw that coin in Fontana di Trevi and return for more!
So whether you are a single traveller, a family, or group on tour, check out monasterystays.com and experience a true slice of Italian life.

Culture, Art, Music, History, Architecture…
Language, Food, Pilgrimage…
Italy is a true destination for the mind and heart.
If you have a Group Tour to Italy – 10 people or 100, we work with you to book Monastery Stays guest houses that will be a true experience and ideally suited to your group requirements.
Bed & breakfast lodging at authentic monastery and convent guest houses, ranging from enviable city locations including Rome, Florence & Venice to regional hilltop towns and coastal retreats, group accommodation options abound throughout Italy.
This accommodation option is ideally suited to study and tour groups large and small:
Value for money group accommodation – single through to quintuple+ sized rooms.
Group pricing, per person that meets group travel budgets.
Meeting rooms, common areas and garden spaces providing a practical but relaxing environment – most often included in the group accommodation price.
Many guest houses have well priced, home cooked group dining options.
Dedicated, experienced and professional customer service of Monastery Stays Group Booking team to manage your accommodation reservation securely and carefully from enquiry to stay.

How to Decipher the Code in Venice Click to Read
What is the name of a street in Venice..?
Venice
is a unique town for so many reasons. The winding canals and laneways that weave their way through this wondrous location can seem like a maze…
How do you find your 'sestiere' … via a 'canal' or a 'calle' ? … and just remember, do not to step off a 'fondamenta' or you might get wet!
Monastery Stays is here to help you decipher the code that is navigation in Venice!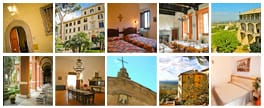 Why book with Monastery Stays
Well established and recommended across the travel media and guides to Italy, Monastery Stays is an innovative small organisation, established to provide a superior service for people wanting an authentic experience in Italy of staying in authentic, unique and value for money convent and monastery accommodation, showing warm hospitality to all travellers
…more
| | | | | | | | |
| --- | --- | --- | --- | --- | --- | --- | --- |
| Powered by | | & | | Associated with | | Recommended by | |
Note:
This article may be freely reproduced if acknowledgement is given to
www.monasterystays.com
Media:
For assistance with articles including high resolution photos, please
Contact Us
Security & Confidentiality:
Read our Policy Here

Please consider the environment before printing this e-mail