Start your day with a traditional Italian breakfast
Where are the eggs?
Breakfast in Italy is a unique and delicious experience.
You won't find bacon and eggs – the 'Full English' or 'American Breakfast' is nowhere to be seen in the dining rooms of Italian monasteries in the morning.
Instead you will be greeted by the smell of warm pastries, bread and coffee. You can also find jams and spreads, yoghurt, fruit and juice, depending on the guest house.
Given the hearty meals often served in Italy over lunch and dinner, it's a nice change to start the day and as they say, "When in Rome…do as the Roman's do.".
Your continental breakfast is served in a communal dining room (or refectory). This room is often the main focal point of the guest house, especially those which have stood for hundreds of years. Large, beautiful rooms with plenty of space.
Where breakfast is available, don't sleep in, you'll need it for a day of sightseeing!
Un cappuccino per favore!
While bread, pastries and jam are all staples, your morning isn't complete without coffee. The country is known around the world for its coffee – Italians are among the biggest consumers of coffee on the planet.
In the morning, you can expect to be offered a cappuccino (espresso with warm, frothed milk) when sitting down to enjoy your breakfast.
While a cappuccino is the norm to start the day, Italians never have milk with their coffee after breakfast, instead sticking to espresso throughout the day (if you need to soften the coffee edge, go for a macchiato!)
Once you are out and about for the day, you will find that cafes are everywhere – it is where Italian's start their day – so you can get another one of those lovely pastries filled with fruit preserves… (or chocolate) and taste test an array of coffees across the day.
Our best advice is to visit a pasticceria or cafe, away from major sights and to take your 'caffè e cornetto' at the bar – you will likely pay only €1 – €1.50 per each.
Cafes on popular piazzas facing major attractions will often charge double or triple this price, particularly if they talk you into sitting down in front of the view!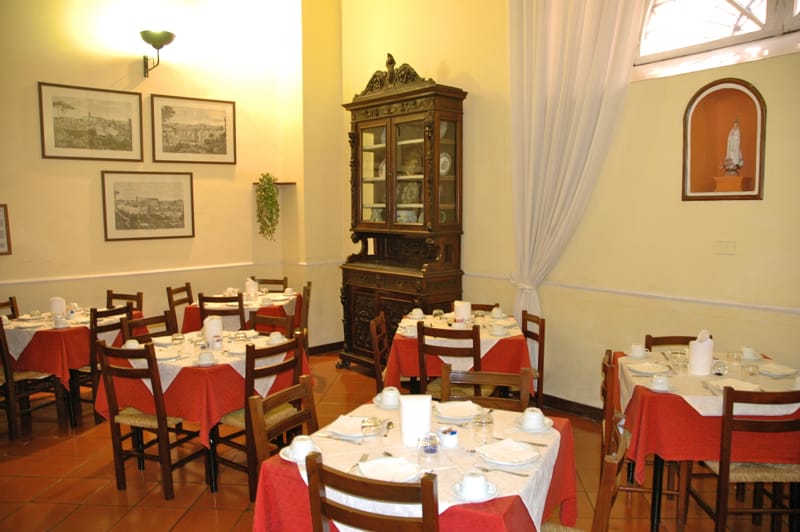 Visit Monastery Stays to book your accommodation in Italy, and make sure you enjoy an Italian breakfast while staying there – buon appetito!