Monasteries and convents opening their doors to tourists
Staying in a monastery or convent guest house in Italy – Monastery Stays – is a unique opportunity to escape the hustle and bustle of mainstream hotels and experience Italy's cities immersed in a hospitality tradition that has been around for 1500+ years.
The Times recently took in a Monastery Stays Weekend Break in Rome & Venice
Click below to read their feature – 'A heavenly way to see Italy's cities'
Monastery Stays make your Italian holiday experience truly unique. Select from over 500 bed and breakfast guest houses with a difference – lovely, clean, ideally located and well priced monastery and convent guest houses throughout Italy's cities.
So much more than a standard hotel, Monastery Stays opens the door to a true cultural experience – warm welcoming guest houses that provide a sense of peace, warmth and security, while at the same time affordability that will cut your Italian holiday costs and allow you to linger, longer in Italy's cities.
Rome, Florence, Venice are covered, as are the magical hilltop towns of Tuscany and Umbria, the Cinque Terre and Amalfi coasts, with options throughout the country you can tour Italy's cities affordably with Monastery Stays.
So whether you are a single traveller, a family, or a group on tour, check out monasterystays.com and experience a true slice of Italian life
Media:
For assistance with articles including high resolution photos, please
Contact Us

Please consider the environment before printing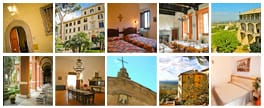 Why book with Monastery Stays
Well established and recommended across the travel media and guides to Italy, Monastery Stays is an innovative small organisation, established to provide a superior service for people wanting an authentic experience in Italy of staying in authentic, unique and value for money convent and monastery accommodation, showing warm hospitality to all travellers
…more